Colour Bar: Movie Tie-In: A United Kingdom
By Susan Williams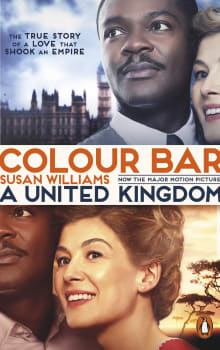 Why this book?
London 1945: the heir to the largest tribe of Bechuanaland (Botswana) arrives in Britain. Seretse Khama, an urbane 24-year-old was welcomed into the elite world of Oxford. But when he fell in love with Englishwoman Ruth Williams, the full force of colonial power was brought to bear to prevent their marriage. 
It has personal resonance for me because when I met Atam, in 1964, Smethwick was in the grip of a racist campaign. Atam and I volunteered to help the sitting Labour MP, Patrick Gordon Walker combat the Conservative Peter Griffiths' campaign. The slogan was, 'If you want a nigger for a neighbour vote Labour'. Atam was welcomed because he spoke Punjabi, Hindi, and Urdu and we accompanied Patrick Gordon Walker canvassing. When I watched A United Kingdom, the film about Seretse Khama and Ruth Williams, I knew that they had portrayed it well when the government representatives treat him with some respect but ignore Ruth. It was on Patrick Gordon Walker's watch as Colonial Secretary that Seretse Khama was exiled from his country. He was not the right man to fight a racist campaign and he lost. This 4 minute video I made for the launch of STE gives the background.

---
When you buy a book we may earn a small commission.