Hilbert
By Constance Reid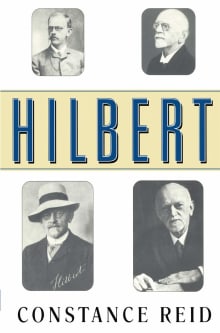 Why this book?
Elegantly written, skillfully ornamented with personal reminiscences and anecdotes (some very funny), this is all that a biography should be. The subject, David Hilbert (1862-1943) was a mathematician of the first rank in the decades around 1900. He was also a champion of talent wherever it might be found. When, in 1915, the Senate of Göttingen University would not grant formal lecturer rank to Emmy Noether because of her sex, Hilbert protested that, "We are a Senate, not a bath-house." He then announced lectures in his own name, but had Noether deliver them.
When my daughter acquired a pet hamster in 2005 I named him Hilbert. On his death the following year I posted an obituary poem, In Hilbertiam, which can still be read on the internet.

---
When you buy a book we may earn a small commission.