Incompleteness
By Rebecca Goldstein,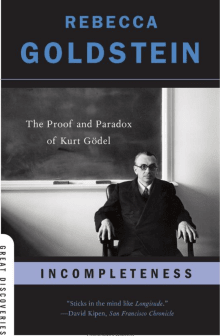 Book description
Probing the life and work of Kurt Goedel, Incompleteness indelibly portrays the tortured genius whose vision rocked the stability of mathematical reasoning-and brought him to the edge of madness.
Why read it?
1 author picked Incompleteness as one of their favorite books. Why do they recommend it?
John Derbyshire
Gödel (1906-1978) is, like Newton, an unpromising subject for biography. He was antisocial and mentally unstable. His obsessive fear of being poisoned led eventually to him starving himself to death. 
Rebecca Goldstein is a professor of philosophy with a deep interest in logic and the foundations of mathematical truth – the applecart that Gödel overturned in 1931 with his tremendous paper on the incompleteness of axiomatic systems. She is also an experienced novelist. This combination makes her just the right person to construct a gripping story out of Gödel's weirdness and world-shaking importance.