Man Must Measure: The Wonderful World of Mathematics
By Lancelot Hogben, Andre, Charles Keeping, Kenneth Symonds, Marjorie Saynor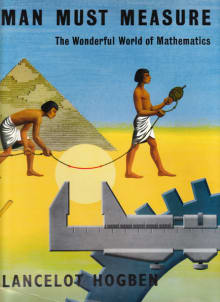 Why this book?
This book is out of print, but I include it in the hope that some public-spirited publisher may be persuaded to reissue this large-format picture book. It was the first book on mathematics that I read at about the age of ten and it contained precisely what I needed to show me that this was a subject with a history and a use. (Nor am I the only mathematician to have this experience.)
As an adult, I found the same author's Mathematics for the Million a bit crass and utilitarian but I pardon him everything for a wonderful first experience.
---
When you buy a book we may earn a small commission.