The Promise of Sleep: A Pioneer in Sleep Medicine Explores the Vital Connection Between Health, Happiness, and a Good Night's Sleep
By William C. Dement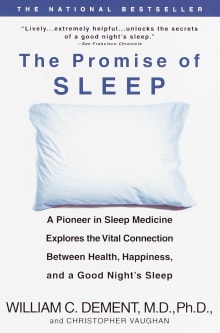 Why this book?
This is the definitive book on sleep!  It is loaded with gems: Your sleep drive keeps an exact tally of accumulated waking hours. Like bricks in a backpack, accumulated sleep drive is a burden that weighs down on you. Every hour that you are awake adds another brick to the pack. The brain's sleep load increases until you go to sleep when the load starts to lighten.
The author emphasizes that your brain keeps an exact accounting of how much sleep it is owed.  Each successive night of partial sleep loss is carried over and the end effect appears to accumulate in a precisely additive fashion. Accumulated lost sleep is like a monetary debt: "It must be paid back." 

---
When you buy a book we may earn a small commission.