Art for the Love of Sark
By Various Artists,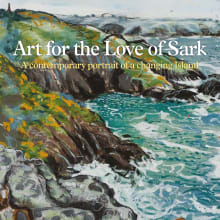 Why this book?
This book is brilliant quality, beautifully designed, and really good value. It shows the natural beauty and fragility of the unspoilt natural environment of Sark, a tiny Channel Island off the coasts of England and France.
To look at its contents is to love it. Illustrations from over 20 internationally famous wildlife artists show how the environment is both rugged and beautiful. A plethora of unpesticided flora vies with an unmatched diversity of wildlife, shown with artistic skill. The life of the people and their unique world is reflected by artists from England, Russia, France, Germany, and Holland.
Its incredible value is to show the world what a lovely place the Island is, though yet under danger of unsympathetic change. Thankfully there are still no motorcars.
---