Survivor Café: The Legacy of Trauma and the Labyrinth of Memory
By Elizabeth Rosner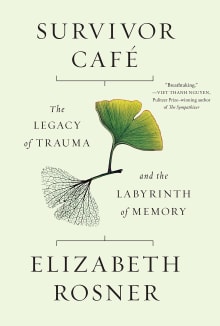 Why this book?
Rosner offers us a smorgasbord of disparate, yet connected essays of varying lengths, including stories, anecdotes, snippets of memoirs, and musings, tied together by the human experience of trauma. As a child of survivors, Rosner uses some images from her own family's experiences in the Holocaust, but also weaves in stories, writings, observations, and meetings with other victims of trauma – and their descendants. In my long career in international schools in 6 countries, I have met survivors of trauma-or their descendants- from Vietnam, Cambodia, Armenia, China, and from African-Americans and Native Americans in the USA. It is uncanny to see and feel our commonalities and the invisible bond which allows us to share the idiosyncrasies specific to our own families. The variety of Rosner's essays and anecdotes makes this a fascinating read. Her introductory alphabetical word list, which she entitles "The Alphabet of Inadequate Language" is an excellent entre into the book.
I am passionate about the book because both my parents were survivors of the Holocaust. I have analyzed the elements of my childhood, and how my parents' experiences impacted my own behavior and beliefs. My personal voice follows my mother's testimony in the book – I am sure Mama wouldn't mind.
---
When you buy a book we may earn a small commission.