Walt Disney's Bambi
By Disney Book Group,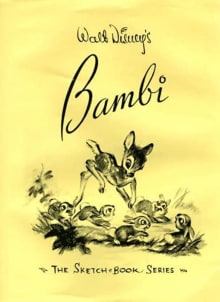 Recommended by Ron Husband
From Ron's list on sketching, anatomy and animation for the artist.
Bambi, Sleeping Beauty, and Peter Pan are also part of this series. This compilation of drawings by master animators Frank Thomas, Ollie Johnston, Milt Kahl, Mark Davis, John Lounsbery, storyman Joe Grant and more are truly encouraging and inspiring. Before the drawings are passed along to the clean-up stage, we see the unique and beautiful drawings of the animators with the circles for heads and construction lines visible used to convey balance, proportion, perspective, silhouette, and attitude, all while drawing the character on model. We will all have a greater appreciation for the level of drawing mastery shared inside the pages of these books. 
---