Fighting Words
By Kimberly Brubaker Bradley,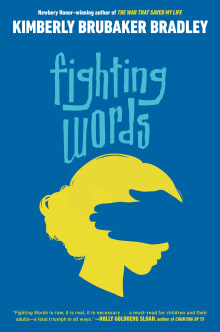 Why this book?
Mental illness can be so serious and depressing, even striking fear in some people's hearts. Here are five of my favorite titles for young and old readers alike—award winners, all, that use excellent storytelling and beautiful writing, draw freely on humor (or at least irony), and responsibly, hopefully, honestly, sometimes disturbingly, demystify mental illness for readers wishing to walk a mile in these shoes. If you or your teen reader like your novels real and edifying, you're sincerely welcome.
This story gently exposes the mental health fallout from long-term sexual abuse, including depression and a suicide attempt, but it's told through the point of view of foster kid ten-year-old Della whose laugh-out-loud humor will have you snorting coffee out your nose. Della only slowly comes to realize what her beloved sixteen-year-old sister Suki has suffered and the novel contains nothing graphic. Best of all, these characters speak up, get help and support, and triumph. This won a Newbery Honor so I'm not the only one who thinks well of it.
---