Catching Fire: How Cooking Made Us Human
By Richard Wrangham,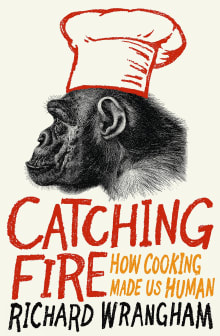 Why this book?
Wrangham collected the evidence that the ability of early humans to control fire was the key to the evolution of our large brains, because it made it possible to soften food to make it easily digestible, which had two advantages: the food had higher energy, which enabled humans to develop larger energy-demanding brains with a larger cortex and greater cognitive abilities, and it freed humans from lengthy chewing of uncooked food so that they could devote their time to exploring and exploiting their habitat and social organization
Cooking also gave food heightened flavors, which added to its attractiveness and was a driving force in human evolution, a keystone of the new field of Neurogastronomy.  All of these factors mean that simple ideas about diets to enhance health need to recognize that food flavors are built deep in our brains, and the better we understand this the better we can select and maintain healthy diets.  This understanding of a central human behavior and its role in the evolution of our large brains is wonderfully insightful into how we humans became who we are.
---