The Wonky Donkey
By Craig Smith, Katz Cowley (illustrator),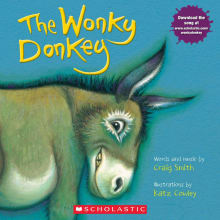 Why this book?
I love a book that makes me laugh and The Wonky Donkey does not disappoint! Like so many others, I discovered this book from a viral video of a Scottish grandmother reading to her grandson. She couldn't stop laughing... I knew I had to have this book! 
Bonus... expressive illustrations, repetitive sentences, and a tongue-twister, this book is educational and great for beginning readers. A must-have for any home library.
---