Supersizing the Mind: Embodiment, Action, and Cognitive Extension
By Andy Clark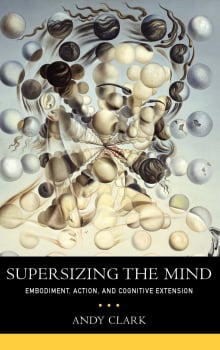 Why this book?
There are many relevant books that preceded Andy Clark's Supersizing the Mind and that followed it. For example, Raymond Gibbs's Embodiment and Cognitive Science, Louise Barrett's Beyond the Brain, and Lawrence Shapiro's Embodied Cognition have made important contributions to the field's understanding of the role that the body plays in cognition. But Andy Clark's treatment of this topic stands out because of the range of disciplines that he includes in marshaling of evidence for embodied and extended cognition.
Unlike many of the proponents of embodied and extended cognition, Andy Clark relies heavily on state-of-the-art robotics for his evidence. As a philosopher, Clark's first instinct is to use thought experiments to help "pump" the reader's intuitions out of the ground like subterranean insights. A good thought experiment can actually help you realize that you have a different opinion about something than you thought you had. But Clark also clearly has a love for robotics. While intuitions can reveal opinions, and cognitive neuroscience experiments can test one theory against another, robotics shows us when a theory can actually be physically implemented successfully – and when it can't. For example, when a cognitive neuroscientist says "if the brain works this way, then my experiment will find these results," another cognitive neuroscientist can often retort with "but this very different theory can produce those results as well!"  By contrast, when a roboticist says "if I build a robot this way, it will walk or talk or identify objects," and she does and it works, no one can say it didn't happen. Moreover, when a theory that looks good on paper is converted into a machine and the machine breaks itself, that is clear evidence that the theory needs some revision. Eventually, all theories of perception, action, and cognition will have to visit the ruthless proving grounds of robotics, where those tests will either make them or break them. Thus, it is no wonder that Andy Clark spends much if his effort in Supersizing the Mind exploring robots as palpable examples of cognitive processing taking place not just in the CPU of the robot but also in the body of the robot – and even in the body's relation to the environment that it's in. 
Clark quickly dives into the concept of passive dynamics as an efficient method for locomotion and other behaviors. Passive dynamics is an example of the broader concept of "morphological computation," where the morphology of the agent's body already does some of the cognitive computations for it, even before signals are sent to a CPU or a brain. With passive dynamics, it is momentum, inertia, and gravity that provide crucial assistance in the action of the limbs – and you get those for free! For example, if the legs are the right length and weight, relative to the rest of the body, surprisingly little energy is required to make them swing forward and back for walking. With the perfect balancing of physical tension forces between muscles and between bones, the human body (and certain robots) can be seen as a tensegrity object that maintains its structural integrity despite a variety of contortions and deformations during complex movements and actions. This balance is maintained in large part due to the simple physical forces exerted by tendons, ligaments, and fascia – over and above the signals that are being sent by electrochemical impulses that are connected to the central nervous system. 
Clark's Supersizing the Mind is now a classic ride through the philosophy and robotics of embodied and extended cognition and is surely required reading for anyone interested in this field.
---
When you buy a book we may earn a small commission.