The Vital Question: Why is Life the Way it Is?
By Nick Lane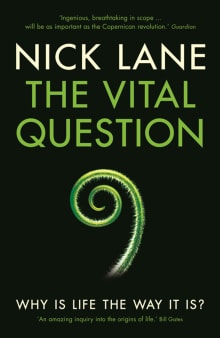 Why this book?
As a student, I was enthralled by Jacob Bronowski's TV series The Ascent of Man. He talked about the origin of life and the first experiments that tried to reconstruct how life began. This made me yearn to know not the lab test-tube chemistry I was studying but the chemistry of living things and the earth itself. Since then the knowledge gained of this deep chemistry has surpassed my wildest dreams and my ambition has been to share it. 
Nick Lane and his co-workers have traced the most plausible origin of life in the mysterious white chimneys – first predicted and then discovered at the bottom of the Atlantic in 2000 – which vent warm gases and minerals with a composition related to the nanomachinery of life to this day. Lane is not only a leading figure in this research but one of the most accomplished popular science writers. I think this is his best and most ambitious book, one that I don't hesitate to compare with Darwin's On the Origin of Species in terms of its impact and fruitful insights into the way forward.

---
When you buy a book we may earn a small commission.