The Rainbabies
By Laura Krauss Melmed, Jim LaMarche (illustrator),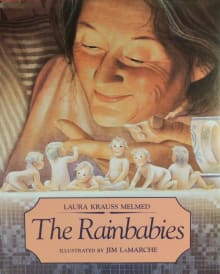 Why this book?
This book is hands down one of my favorite children's books of all time. Jim LaMarche's gorgeous illustrations had me entranced as a kid (they still do!) and as an adult revisiting the book, I am blown away by how thoughtfully it tackles some heavy real-life issues. The story centers around an older couple struggling with infertility who, through a magical springtime rain, find themselves suddenly the caretakers of 12 fantastically tiny babies.
The story has the effortless flow of a classic fairytale and along the way weaves a moving and nuanced understanding of parenting and the overall concept of family. At the heart of the story lies the message that someone does not have to be biologically related to a child to be their parent- What makes a family is love.
---