The Last Stand of the Tin Can Sailors: The Extraordinary World War II Story of the U.S. Navy's Finest Hour
By James D. Hornfischer,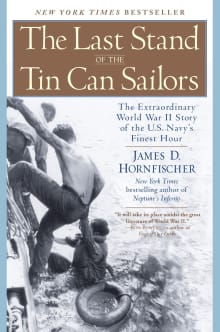 Why this book?
The Battle of Samar Island, which is the subject of this book, is one of the most extraordinary naval battles in all human history. In October 1944 a massive Japanese battle fleet encountered a small US Navy task force just east of the Philippines. Woefully outnumbered and outgunned, the diminutive American escort vessels protecting a handful of light carriers charged headlong at their foes – 1,500-ton destroyers taking on 60,000-ton battleships – and forced the Japanese into a disorganized retreat.  The courage, determination, and self-sacrifice of the crews of the destroyers and destroyer escorts – the "Tin Can Sailors" of the title – would be unbelievable if they weren't so well-documented.

---