Day of Infamy
By Walter Lord,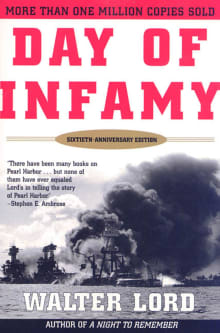 Book description
A special 60th anniversary edition of the bestselling re-creation of the surprise attack on Pearl Harbor, by the author of A Night to Remember.

Sunday, December 7, 1941, was, as President Roosevelt said, "a date which will live in infamy." Day of Infamy is a fascinating account of that unforgettable…
Why read it?
3 authors picked Day of Infamy as one of their favorite books. Why do they recommend it?
Angel Giacomo
I got this book as a teenager. As a WWII history buff, I read it cover to cover so many times that the cover wore off. This is a complete account of the attack on Pearl Harbor, Hawaii, on December 7, 1941. From the workers dipping soup with their oily hands to eat on breaks while trying to free men from the capsized USS Oklahoma to the use of coke bottles to store donor blood, it is a gritty account of the bravery of the U.S. forces caught by surprise by the attack. While newer books on Pearl Harbor have…
Daniel Allen Butler
Few authors have ever matched Walter Lord for his ability to put a reader inside a historical event as it was unfolding. In Day of Infamy he puts his readers vicariously on the ground, in the air, or aboard a ship during the Pearl Harbor attack, and through his use of eyewitness accounts draws the reader into what becomes an almost visceral experience.  While some details Lord recounts have been invalidated by more recent research (the book is over sixty years old yet is still in print!), that does nothing to detract from how convincingly he conveys the Americans' feelings…
Daniel Hammel
Lord writes in the narrative history perspective of the attack on Pearl Harbor and interviewed hundreds of people who were present at the event. The book reads like you are in it, tiny details are present, from the light hearted night of entertaining of Admirals before the attack on December 6th to the unsuccessful two-man midget submarine attack. We hear the echoes of the past as they are unfolding in real time, minute by minute, hour by hour, bomb by bomb. An event that shook the world, from the people who were there on both sides of it.