Matter and Desire: An Erotic Ecology
By Andreas Weber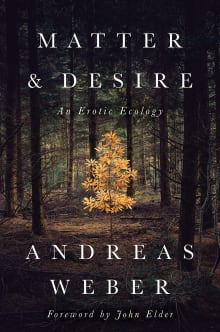 Why this book?
This book stopped me being scared of death – well almost. It is a wonderful read about how we are embodied creatures of planet Earth. Our very being is relationship. Take breathing for example. As you sit there you breathe in oxygen, nitrogen, and a little carbon dioxide. When you breathe out you release extra carbon dioxide – with that carbon coming from your body itself. You gift a little of your being in exchange for the oxygen - fragments that may end up in that tree outside your window. Once we understand that exchange is the essence of life, it helps us live well on our shared planet. As Weber explains, joy comes when we sense that life is increasing – for us and for others.
Our task then becomes to nurture life – the creative striving of all living things to become themselves and connect with others. Weber describes what I feel to be my foundational narrative – that we are all at home in this world, and working together is what matters most. 
---
When you buy a book we may earn a small commission.