Animals in Translation: Using the Mysteries of Autism to Decode Animal Behavior
By Temple Grandin, Catherine Johnson,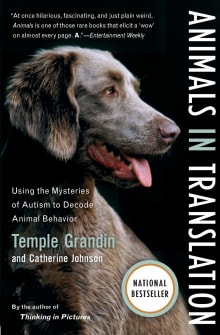 Why this book?
Like her book Thinking In Pictures, Animals In Translation is about how Temple Grandin solved problems, like ways to improve animal handling in slaughterhouses, by putting herself literally in the position of the animals and 'seeing' how it could change the way they were treated, making it less distressing for them. This then is about visual communication, not verbal as words themselves are only part of the communication process, with tone of voice and body language being the greater part of it. Speaking for myself, I found language problematic as what someone said might be contradicted by what they did or the tone of their voice.
---