The Smithsonian Collection of Newspaper Comics
By Bill Blackbeard (editor), Martin Williams (editor),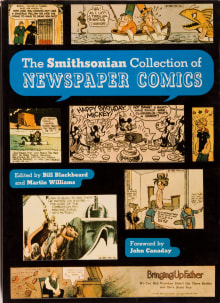 Why this book?
Bill Blackbeard was the Harry Smith of comics. Just as Smith's landmark Anthology of American Folk Music helped launch a folk music revival, so did Blackbeard's massive volume of old newspaper comics spark a new generation of comics fandom and scholarship. This was also the first book of old newspaper funnies I ever read, during a childhood Saturday afternoon in the Willard Library in Evansville, Indiana, when I discovered the magical "741.5" shelf that held books of comics. Other big, beautiful anthologies of old newspaper funnies have been compiled by comics creators like Jerry Robinson and Brian Walker, but Blackbeard is the granddaddy.

---