Sam & Dave Dig a Hole
By Mac Barnett, Jon Klassen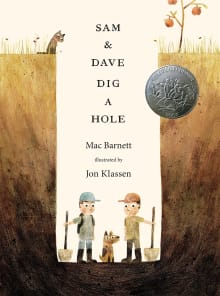 Why this book?
I love this book because it takes something so universal (two kids deciding to dig a hole in order to look for "something spectacular") and escalates it to the point of absurdity. 
This book also does an incredible job of having the pictures tell a different story than the text, which is something that only picture books can do! Sam and Dave are constantly missing things that are super obvious to the reader (and the dog!), which creates lots of opportunities for laughs. My kids love this book, and I love reading it to them.
---
When you buy a book we may earn a small commission.