Highest Duty: My Search for What Really Matters
By Chesley B. Sullenberger, Jeffrey Zaslow,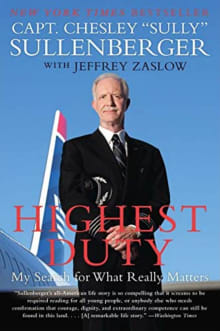 Why this book?
Captain Chesley "Sully" Sullenberger is one of the most well-known aviators in recent history. He was made famous by an extremely dangerous situation that he handled exceptionally well. This book is not just about the "Miracle on Hudson" incident; this is a biography about Captain Sully, how he became a pilot, and how decades of flying prepared him for this one single moment. It's an inspirational book for anyone to read.

---