Guards! Guards!
By Terry Pratchett,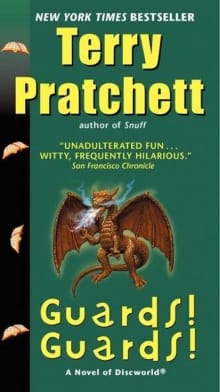 Why this book?
Guards! Guards! is the first of the City Watch books from Terry Pratchett's Discworld. This book was the first book that I'd ever read to lampoon Dragons and Humans in such a brilliant way.
STP had already mentioned Dragons in The Colour of Magic, but I wanted dragons that had characters and were a proper character, not just a side one.
There are two types of dragons in this story – Swamp Dragons, a purse puppy-sized dragon that was more likely to explode from excitement like a spaniel with a new friend, than breathe fire and fly. The other type is your usual Fire breathing, massive wingspan, gold hoarding Noble Dragon.
However, this story is so much more than just the dragon. The story is about the effect of "dragons" on society be they animal or human….
---