Libyan Sands: Travel in a Dead World
By Ralph A. Bagnold,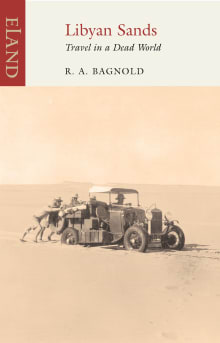 Why this book?
A unique work, Libyan Sands is the first book to describe the thrills and pitfalls of exploring the Sahara by car: it also inspired me to explore the desert, albeit with camels, not cars. Bagnold writes with verve and passion about his pioneering journeys, in the 1920s and 1930s, driving with colleagues across hundreds of miles of uncharted desert, in tiny Ford Model-T cars, the first people to do so. As he writes, "The fact is we were a little afraid of the desert." With good reason! During WWII he formed the Long Range Desert Group, which carried out missions hundreds of miles behind enemy lines, and the adventures of Bagnold and his fellow European enthusiasts would later inspire Michael Ondaatje's 1992 novel The English Patient. 
---