Leonardo Da Vinci: A Singular Vision
By Martin Clayton,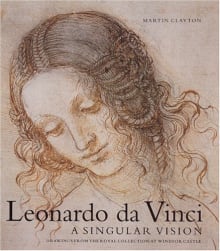 Why this book?
This is my favorite book on drawings by Leonardo, with the best from his broad œuvre of head studies, figures, children, anatomy, plants, horses, mechanics, buildings, water dynamics, and aerial landscapes. The quality of the color reproductions is superb. The text is insightful with quotes from Leonardo. I love the silverpoint figure drawings with white chalk highlights on blue paper that Leonardo prepared himself. Leonardo's understanding of anatomy, combined with the flesh-colored line of oxidized metal, make the figures leap from the page.
I was astonished to learn that Leonardo used black chalk under-drawing in his anatomical ink studies. The correlation between Leonardo's studies and his paintings is enlightening – in drawings for The Last Supper, Leonardo expresses the anguish in the head of St Philip with a few skillful lines and captures the look of disdain in the head of Judas in red chalk on red ground. I learned that Leonardo's iconic drawing of hands was a study for Ginevra de'Benci. She lost her arms when the lower third of the painting was sawn off. This revelation inspired my drawing Surgery Reattaching Ginevra de'Benci's Arms and Hands.
---