How to Become a Really Good Pain in the Ass: A Critical Thinker's Guide to Asking the Right Questions
By Christopher Dicarlo,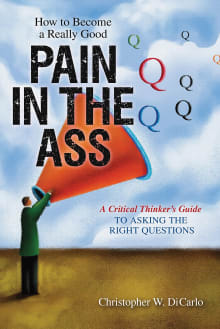 Why this book?
If there is one book I wish I'd written myself, it is How to Become a Really Good Pain in the Ass. One of the things I admired most about the people who shaped my education and career path most was their ability to listen carefully and ask critical questions that uncovered even more than what was first expressed. Christopher DiCarlo's book is a manual to practicing these traits. The book provides all of the tools needed to question beliefs and assumptions held by those who claim to know what they're talking about, while at the same time providing practical solutions for today's world of misinformation. The book also convinced me that faulty reasoning can be spotted by asking the right sorts of questions—what better gift to give someone? 
---