Sit-In: How Four Friends Stood Up by Sitting Down
By Andrea Davis Pinkney, Brian Pinkney (illustrator),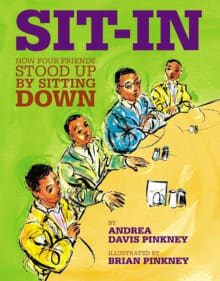 Why this book?
Joseph McNeil. Franklin McCain. David Richmond. Ezell Blair. These aren't household names, but they should be. These four college boys—still in their teens—organized the 1960 sit-in at a Woolworth's lunch counter in Greensboro, North Carolina. This book shows how their daring not only drew in more protestors to join them, but set off a wave of sit-ins all across the South, and ultimately led to the formation of the Student Nonviolent Coordinating Committee, with the slogan "We are all leaders." Pinkney even squeezes in a shout-out to the grassroots organizer Ella Baker.
---