Black Spring
By Henry Miller,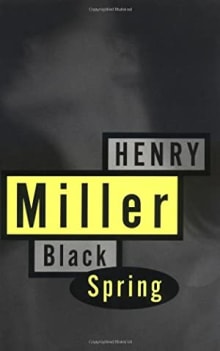 Why this book?
As a young man I had a prolonged bout of mental illness. What saved me was my struggle to become a writer. This was my secret identity. I had to find other writers to inspire me, whose books offered hope, and could help me channel the restless energy that I felt within that had not yet found a purpose. I found such a writer in Henry Miller.
Miller is out of fashion now, even though George Orwell called him "the only imaginative prose-writer of the slightest value who has appeared among the English-speaking races for some years past". Like DH Lawrence, he tangled with the censors repeatedly – to his credit.
He was as uncompromising about his art as Lawrence. Unlike him, he had no hang-ups about moralism and guilt. Far from it. Reading him was like sipping nectar. It was a tonic for the mind. His exuberant language was infectious. In extended passages he celebrates with an undivided enthusiasm and without distinction all levels of human life from sex and bodily functions to high art and philosophy as if there were no difference between them. Which of course there isn't. He glorifies in the fecund abundance of life, seeing meaning everywhere, like Walt Whitman and William Blake, two other poets who set my heart on fire.
"Energy is eternal delight!" cried Blake, and Miller echoed "Always merry and bright!". His optimism was catching. Reading passages from Black Spring or Tropic of Capricorn could keep me afloat for days. The important point was that he reinvented himself, mythologising his own life, making a Promethean odyssey of his struggles to become a published writer.
---