Never at Rest: A Biography of Isaac Newton
By Richard S. Westfall,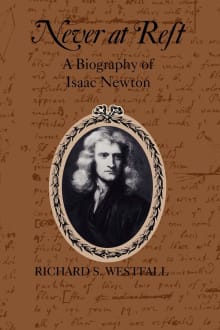 Why this book?
Don't let the length (over 900 pages) of this biography put you off. Instead, immerse yourself in the slow and powerful current of author Richard Westfall's superbly written and richly detailed portrait of the skills, achievements, and obsessions of the singular genius that was Isaac Newton. Westfall explains in a masterful way Newton's mathematics, his physics, his heretical theology, his fixation with alchemy, his activities running the Royal Mint, and his disputes with other scientists. These features, and Westfall's evocative description of the intellectual and social milieu of Newton's 17th-century world, make Never at Rest a compelling read.   
---