QED: The Strange Theory of Light and Matter
By Richard P. Feynman,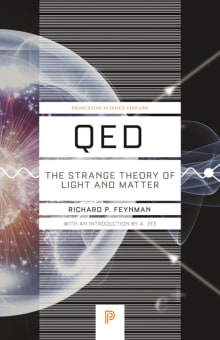 Why this book?
Richard Feynman, who I was lucky enough to be taught by at Caltech, was the most important American physicist of the post-war era. His greatest achievement – for which he shared the 1965 Nobel Prize for Physics – was "quantum electrodynamics", the theory of how light interacts with matter. After winning the prize, a friend challenged him to explain QED to ordinary people. At first, Feynman thought it impossible. But then he found a way.

Feynman's genius was to come with pictures, little "arrows" that depict how particles of light – photons – interact with particles of matter – principally electrons. In QED you will discover delightful explanations of things you thought you understood such as the reflection of light by a mirror. Perhaps you did not realise that photons striking a mirror bounce off in every possible direction but that in only one direction do they reinforce each other, all their little arrows adding up.

QED is one of the high points of the 20th-century – the most successful theory of physics ever devised, which predicts what we observe to an obscene number of decimal places. It is remarkable that Feynman found a way to explain it in such a slight and unthreatening popular book.

---