A Million Little Pieces
By James Frey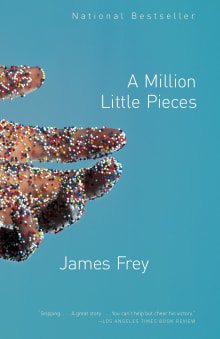 Why this book?
Over the years I have read this book three times and I plan to read it again and, perhaps again and again. I've never experienced anything like it. The writing is punch-perfect, every unpunctuated line offering a gut-grab. I found myself talking to Frey, sometimes shouting, "Why don't you get it, you stubborn, pigheaded, self-centered jerk?" My questions come from a place of fear for the places where his pig-headedness will take him. I want him to live a good, long, clean and sober life because, strange as it might seem, in recovery those stubborn, pigheaded, self-centered, addicted jerks turn out to be some of the kindest, deepest, most soulful, loving people you will ever have the opportunity to meet.
Frey took a lot of heat from Oprah and her millions of viewers because his book was marketed as a memoir even though it is filled with fictional extravagances (the horrific dentist scene, for example) – so read it as a novel with truth and reality shouting at you from every line (which is why you shout back). My favorite line is the very last line in the book: "Yes, I'm ready."
---
When you buy a book we may earn a small commission.