On the Borderline of Extermination: A Narrative of Inhumanity
By Joseph Gershkowitz,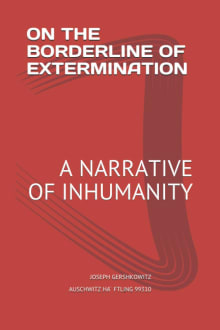 Why this book?
No one can truly know what life was like for Jews under the Nazis. We cannot feel the constant terror and inhumanity imposed upon their Jewish victims. We cannot hear their constant pleas, moans, and screams. We cannot smell the stench of filth, sickness, and death. Nevertheless, Joseph Gershowitz manages to take us as close as we can to his suffering in his absolutely riveting first-hand account of life in the Nazi's concentration camps. On the Borderline of Extermination is a must-read for understanding the cruelty, barbarism, and inhumanity of the Germans and their all too willing helpers.

---