The Alchemical Tarot
By Rosemary E. Guiley,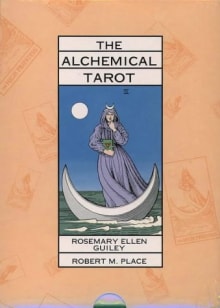 Recommended by Peter Mark Adams
From Peter's list on the Esoteric Tarot.
This truly great, visionary re-conceptualisation of tarot imagery combines profound mystical insight with inspired artistry to render familiar tarot imagery through the transformative lens of alchemy. The Alchemical Tarot deck is one of the most outstandingly beautiful and inspiring decks in existence. Based on my own initiatory experience I can confirm that The Alchemical Tarot is an inspired, true, and faithful transmission of the esoteric current underpinning the notion of an esoteric tarot.
---