Discriminating Data
By Wendy Hui Kyong Chun, Alex Barnett (illustrator),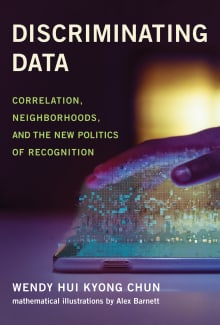 Recommended by David Theo Goldberg
From David's list on spotlighting race and neoliberalization.
Digital technology, like technology generally, is commonly assumed to be value neutral. Wendy Chun reveals that structurally embedded in digital operating systems and data collection are values that reproduce and extend existing modes of discriminating while also originating new ones. In prompting and promoting the grouping together of people who are alike—in habits, culture, looks, and preferences—the logic of the algorithm reproduces and amplifies discriminatory trends. Chun reveals how the logics of the digital reinforce the restructuring of racism by the neoliberal turn that my own book lays out.
---