Stolen Valor: How the Vietnam Generation Was Robbed of Its Heroes and Its History
By Glenna Whitley, B.G. Burkett,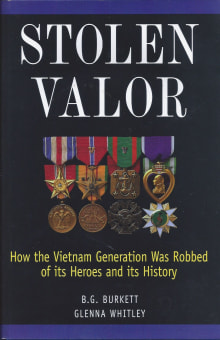 Why this book?
I believe this book is the most important book written about the aftermath of the war, and the impact it had on "those who went." Author Burkett describes himself as a Vietnam Veteran, but one who served in an administrative capacity and seldom in harm's way. Upon returning home in 1969, he witnessed, first-hand, the disrespect given to those who went to war by those who stayed home. In 1996, Burkett was enlisted by a group of citizens who were trying to build a Vietnam Veterans Memorial Monument in Fair Park near downtown Dallas to help them raise the necessary funds. He first went directly to business decision-makers and asked for their support, only to be soundly rejected because of the extremely negative reputation placed on returning veterans by the media and others. Knowing that that terrible reputation (murderers, rapists, baby-killers, etc.) was not earned by most, he set about doing the research with the assistance of author Whitley. What he found and documented was a much different story, so he took his research and revisited those decision-makers; the result was the funds needed to build the memorial were realized and the monument was built. The second half of this book was one I did not want to read. It exposes those who did not go to war but claimed to be combat veterans. This book is used by law enforcement to expose those frauds.

---