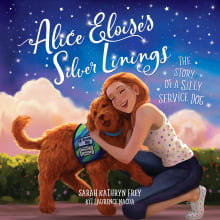 Alice Eloise's Silver Linings: The Story of a Silly Service Dog
By Sarah Kathryn Frey, Kit Laurence Nacua
Why this book?
Another uplifting, "pawsitive," diversity-inclusive book based on a real-life service dog! This wonderful story reminds kids to look for the silver linings in life, believe in themselves, and never give up. Readers will cheer for Alice Eloise as she overcomes obstacles and works hard to become the perfect silly service dog for her girl. Author Sarah Katherine Frey has overcome numerous health obstacles in her life, yet she always looks for the silver lining. Help promote empathy and disability inclusion in readers by joining Frey and Alice Eloise "on their journey as they go on adventures with a smile and…
From the list:
The best children's books about service dogs
When you buy a book we may earn a small commission.