Northern Lights
By Philip Pullman,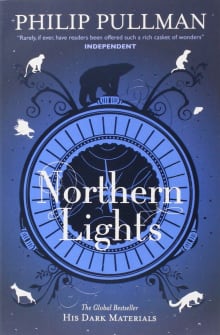 Book description
This is the first in a trilogy in which a new universe has been created. A world where daemons swoop and scuttle along the streets of Oxford and London, where the mysterious Dust swirls invisibly through the air, and where one child knows secrets the adults would kill for.
Shepherd is reader supported. We may earn an affiliate commission when you buy through links on our website. (learn more)
Why read it?
3 authors picked Northern Lights as one of their favorite books. Why do they recommend it?
Lori Powell
Set in a world parallel with ours, I loved the Oxford of this book and the similarities with the world I know. I also loved the differences. My favourite thing about this series is the daemons, they are the same as our soul, but they take the form of an animal that is visual to all who interact with their human. This whole look at souls and what makes a person human is fascinating and, combining this with a rebellious female protagonist and an amazing adventure, makes this book just brilliant. The author does that wonderful trick of being readable…
Steve Griffin
Northern Lights is the first book in the His Dark Materials trilogy, a dazzling series in which portals enable movement between parallel worlds including a steampunk version of our own and the strange, desert city of Cittagazze. It features one of the niftiest magic items ever conceived in the form of the Subtle Knife, which can divide subatomic particles and create new portals. How cool is that? Northern Lights with its gypsies, zeppelins, and armoured bears in Arctic snowscapes is my favourite of the trilogy.
Jason Falloon
A somewhat subversion of the fantasy genre thinly veiled in dystopian concepts is Phillip Pullman's His Dark Materials series. The exciting distinction about Lyra's World is the balance of realism and hardline epic fantasy used to design its geopolitics. 
My favourite element of Pullman's world-building is the somewhat real-time context he applies to its geography, such as Oxford, Svalbard, and the Commonwealth to build a dystopian reflection of our own society. The haunting geographical resonance with our own world helps to craft an attractive and relatable story world, in which it is easier to imagine the characters in action, unlike…