Band of Brothers: E Company, 506th Regiment, 101st Airborne from Normandy to Hitler's Eagle's Nest
By Stephen E. Ambrose,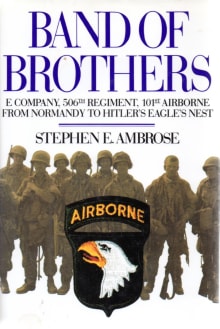 Why this book?
The source material for the HBO miniseries and a fantastic glimpse at a unit that had a knack for being in the middle of some of the biggest parts of World War II in Europe. Easy Company gives us a front-line soldier's look at D-Day, The Bulge, and even post-war life as they roll into the Eagle's Nest, Hitler's mountain refuge. If the author is a bit of a cheerleader for "our guys," he can be forgiven, I think, considering the extraordinary courage and sacrifice we witness on the part of the men of Easy Company.
---