The Fall of Berlin 1945
By Antony Beevor,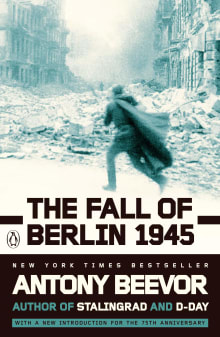 Book description
"A tale drenched in drama and blood, heroism and cowardice, loyalty and betrayal."-Jonathan Yardley, The Washington Post

The Red Army had much to avenge when it finally reached the frontiers of the Third Reich in January 1945. Frenzied by their terrible experiences with Wehrmacht and SS brutality, they wreaked havoc-tanks…
Why read it?
3 authors picked The Fall of Berlin 1945 as one of their favorite books. Why do they recommend it?
Andrew C. Piazza
A bit dry and occasionally over-focused on rattling off official numbers and unit designations, The Fall Of Berlin is also a low-key horror novel. Surrounded on all sides by a massive Russian army hell-bent on revenge, the people of Berlin are caught between those invaders and their own leadership forcing them into a suicidal last stand. The scale of brutality is numbing; this is a battle fought without mercy by two adversaries locked in a death struggle.
Gabrielle Robinson
I quote Beevor in my memoir because he helped me understand both the broad historical context of the city's last days and the experiences of ordinary people caught in it. Beevor combines tireless research with consummate storytelling. This is his eerie description of the night of April 29, a terrifying date also for my grandfather: "the flames in bombarded buildings cast strange shadows on the otherwise dark streets. The soot and dust in the air made it almost unbreathable. From time to time there was the thunder of masonry collapsing. And to add to this terrifying effect, searchlight beams moved…
Glyn Harper
In a selection of books on the Second World War, it would be a serious omission not to include one on the war on the Eastern Front - the decisive theatre of war in Europe. Antony Beevor's best book Stalingrad (1998) falls outside the timeframe I have set but his next book Berlin is almost as good. Berlin: the Downfall 1945 examines the war's final months as a rampaging Red Army exacted its revenge on an overwhelmed Nazi Germany. As The Guardian newspaper so eloquently wrote of this book: "The result is a masterpiece of modern historical writing, which does…