Rebels Against the Future: The Luddites and Their War on the Industrial Revolution: Lessons for the Computer Age
By Kirkpatrick Sale,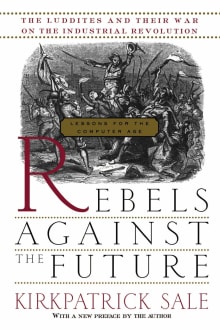 Why this book?
But can you fight the future? Isn't it inevitable? This is often how tech companies try to make us think, and that anyone who opposes "progress" is a Luddite. But, as Patrick Sale makes clear in this excellent and heartbreaking historical study, the original Luddites—a protest movement that swept the industrial heartland of 19th Century England—were not anti-technology; they merely thought technology should serve people, not profit. Faced with the destruction of their livelihoods and their traditional way of life, they destroyed machines and burnt factories because that was the only outlet they had for their rage and desperation. And when the "inevitable march of progress" comes to trample you too, you may see that they had a point.
---