The Right to Vote: The Contested History of Democracy in the United States
By Alexander Keyssar,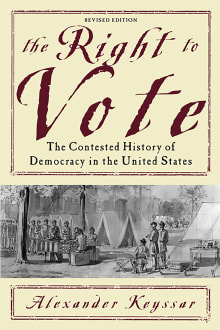 Why this book?
The best word for this book is "magisterial." By detailing the entire history of U.S. voting rights from the late eighteenth century to the early twenty-first, Keyssar covers both the expansion and contraction of democratic political rights for different groups of Americans over time. In this way, he challenges popular and earlier scholarly assumptions that progress toward inclusive voting rights was easy, inevitable, and assured and that antidemocratic exclusions from the franchise—based on class, race, ethnicity, gender, or age—were the exception. 
Keyssar taught me how the U.S. Constitution divides power between the federal and state governments with regard to determining election regulations and voting qualifications, with the states predominant. As a consequence, constitutional amendments and federal oversight would be necessary to advance universal suffrage for all citizens. Laying out the broad themes in this long history, Keyssar's book shows American democracy to be both fundamental and fragile.  
---