Disconnect: The Breakdown of Representation in American Politics
By Morris P. Fiorina,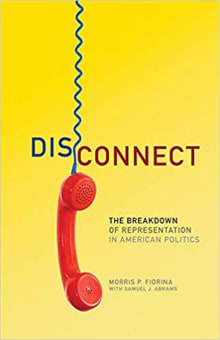 Why this book?
Based on a series of public lectures by a notable political scientist, this book documents the fact that the "political class" has grown increasingly disconnected from ordinary Americans. Written in an accessible way, it is full of simple tables and charts that build the case. In our hyper-partisan world, it offers an important antidote to the common belief that the problems with democracy can be solved simply by defeating the other party at the polls—the challenges are much deeper than that.
---