The Psychic Vampire Codex: A Manual of Magick and Energy Work
By Michelle Belanger,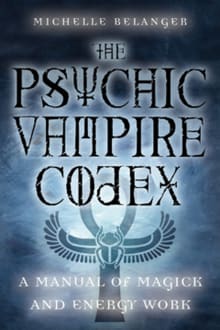 Why this book?
Michelle Belanger is a psychic vampire and an intellectual leader of the real vampire community. This book draws on her experiences of coming to self-identify as a psychic vampire and she actually began writing it in notebooks while in college. The Psychic Vampire Codex provided vocabulary for people in this community to talk about their experiences and a metaphysical theory of what exactly psychic vampires are and why they are different from other people.
I have had the opportunity to meet Belanger and she is a really fascinating person. She founded a metaphysical community called House Kheperu and offers workshops on magick and psychic energy.  She is also a fiction author, musician, activist, and many other things.
---