Down Under: Travels in a Sunburned Country
By Bill Bryson,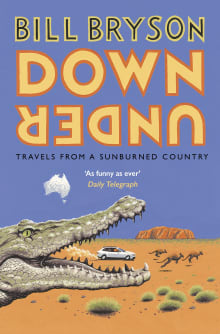 Why this book?
I had great intentions of reading this before my Australia holiday but afterwards it was!  
The book combines experiences from several trips Bill made in Australia, the first on the Indian Pacific train, from Sydney to Perth. Other places he writes about in this travelogue include the Gold Coast, Queensland, Canberra, Adelaide, Melbourne, Uluru, Alice Springs, Darwin, Cairns, the Great Barrier Reef, and Western Australia including Perth. 
I enjoyed the variety in the book ranging from factual research, anecdotes, humor, and descriptions of nature helping me visualize what he saw. Accounts of conversations he had with local people he met entertained and enlightened me. 
Bill travels the way I like to travel—finding out about interesting places to visit, experiences to have, and getting to know the local people.
---