Merchants of Doubt: How a Handful of Scientists Obscured the Truth on Issues from Tobacco Smoke to Climate Change
By Naomi Oreskes, Erik M. Conway,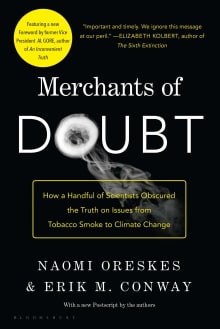 Why this book?
Terrifying and eye-opening, this tells the true story of machinations worthy of a John Grisham thriller. A small but powerful group is determined to deny science and subvert democracy by manufacturing a lucrative new product: doubt. As the authors meticulously document, this is done deliberately and cynically, by corrupting a handful of scientists, destroying the lives of incorruptible ones, and going heavy on lobbying and media spin. But unlike the thrillers, the ending on climate denial has still to be written; the ball is in our court.
---