What Is Mathematics, Really?
By Reuben Hersh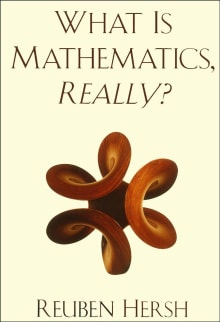 Why this book?
Reuben Hersh is responsible for a revolution in the way we look at mathematics. His main idea is very simple: mathematics is something that is created by human beings. Isn't that obvious, you say? Not if you believe that mathematics is there even before life itself, that it is built into the nature of reality in some way. In philosophy, this view is called Platonism. Hersh had the radical but obvious idea that if we want to understand what mathematics is we should look at what mathematicians actually do when they create mathematics. Like all great ideas it can be stated very simply but the implications are enormous.  His ideas are what got me started writing my own books about math and science.
---
When you buy a book we may earn a small commission.