Strange Peaches
By Edwin Shrake,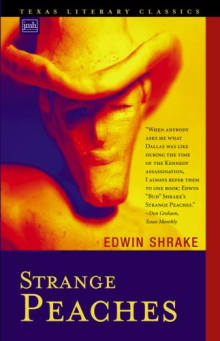 Why this book?
Bud Shrake's novel of Dallas at the time of the Kennedy Assassination is an excellent example of what I call "eyewitness fiction." As a prominent journalist at the rabidly anti-JFK
Dallas Morning News
, Shrake spent time mingling with the far-right millionaires who refashioned Dallas into a "City of Hate." Yet the politically liberal, dope-smoking Shrake was also a denizen of Dallas's underworld and was dating the star stripper at Jack Ruby's nightclub. From these twin worlds, he fashioned this ferocious, comically subversive portrait of Dallas in the months leading up to the assassination.
Shrake's writing has less in common with his Texas contemporaries than it does with American novelists Ken Kesey, Charles Portis, and Kurt Vonnegut. This novel blasts off so hard it can be a bit hard for some readers to hang on in the beginning. But if you stay with it, and latch on to Shrake's Dexedrine-fueled prose, you'll be in for a hell of a ride. Strange Peaches isn't just a great Texas novel, it's one of the best (though woefully underappreciated) American novels of the Sixties.
---