First Light, First Life: A Worldwide Creation Story (Worldwide Stories)
By Paul Fleischman, Julie Paschkis (illustrator),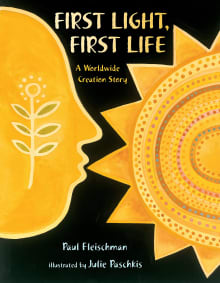 Why this book?
This is a picture book with vibrant illustrations that takes on the topic of creation. It does so, however, not from a scientific perspective but from a mythic one. In a cohesive and fascinating narrative, Fleischman weaves together tales from around the world, identifying each to its source. And yet he emerges with a single story, a story that will capture readers of all ages.
---