Guns, Germs, and Steel: The Fates of Human Societies
By Jared Diamond,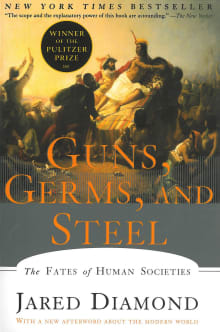 Why this book?
This book will be a quarter-century old next year, and it is a book that has kept me busy for a long time. The question of why some human societies have progressed more than others is one that poses itself to anyone who has studied human history. When I read this book, I had decided to study the evolution of insect societies. Ants also engage in many interactions with other organisms, they cultivate fungi, keep livestock (aphids), and yes and sometimes wage war, just like human societies.
Jared Diamond describes in this book how the presence of domesticable animals and plants can drive the evolution of human societies. How pathogens and the exchange of them between populations, often determine the fate of human societies rather than military achievements. Especially in our time, it is again an exciting book, which should be read by a new generation.
---