The Night Before Christmas
By Clement C. Moore, Christine Brallier (illustrator),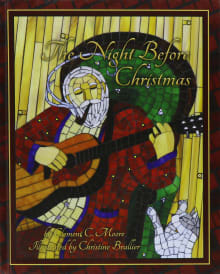 Why this book?
Fascinated and curious I was—when mosaic artist Christine Brallier introduced her rendition of The Night Before Christmas in 2013. The 15 stained glass panels she designed and pieced together over nearly 5 years became the illustrations for the timeless Clement Moore poem. 
Dazzled and speechless I was—when the book arrived. Christine Brallier's vibrant, whimsical, and quilt-like mosaics infuse a down-home warmth into this electric poem. Her beloved cat even has a cameo spot on several pages. This unique and beautiful book continues to sit on the edge of my brain. It's a perfect gift for families with inquisitive young children and memories to make.
---