How Much Is a Million?
By David M. Schwartz, Steven Kellogg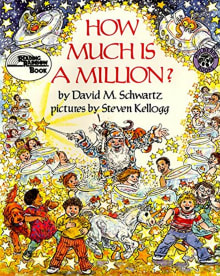 Why this book?
Big numbers are just as amazing to kids as dinosaurs, and for the same reason. They're so incredibly huge that they boggle the mind. This book helps kids comprehend big numbers using everyday objects and scenarios. If a million kids sat on each other's shoulders, how high would they be able to reach? How long would it take to count to a million? Once they master a million, your kid will be well on their way to tackling quadrillions, nonillions, and, heaven help us, decillions!

---
When you buy a book we may earn a small commission.